Feather Wire Necklace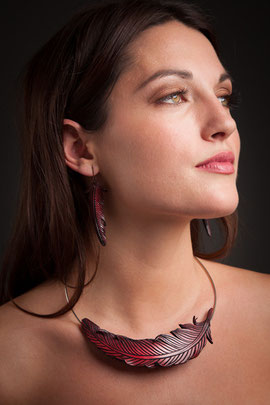 Feather Wire Necklace
The Feather wire necklace was inspired by Nadine Jaggi's award winning costume 'Ornitho-Maia'.  This piece frames the face beautifully and can be worn together with casual attire or can appear quite elegant and sleek for a special occasion.
The Feather is hand carved and dyed which makes each necklace one of a kind.
Please note that the feather may differ slightly from the image seen of this website.
The stainless steel neck wires are available in a range of sizes, 16 inch, 18 inch and 20 inch.  (Inside circumference).
Earrings sold separately.